Kamisama no Inai Nichiyoubi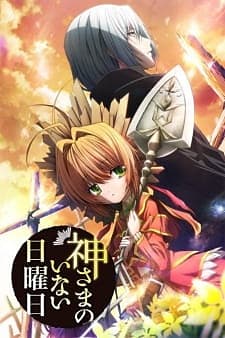 Status:
end
Genres:
Summer 2013
Description:
Alternative Titles
Synonyms: The Sunday without God, Kami-Nai
Japanese: 神さまのいない日曜日
Information
Type: TV
Episodes: Unknown
Status: Currently Airing
Aired: Jun 29, 2013 to ?
Producers: Madhouse Studios, Starchild Records
Genres: Mystery, Fantasy
Sinopsis:
Tuhan meninggalkan dunia pada hari Minggu. Akibatnya, tak seorang pun di dunia bisa mati atau Beranak-pinak. Seorang gadis kecil, Ai, adalah Penjaga Makam untuk sebuah desa. Dia telah menyiapkan 47 kuburan untuk kematian setiap Penduduk desa. Kemudian, Datanglah anak laki-laki yang menyebut dirinya sebagai "Hampnie Hambart, The 'Man-eating Toy'," yang kebetulan namanya sama dengan nama ayahnya, datang ke desa dan membantai semua orang. Apa yang terjadi?