Kiniro Mosaic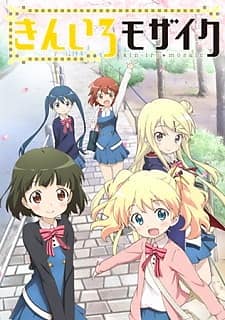 Status:
end
Genres:
Summer 2013
Description:
lternative Titles
English: KINMOZA!
Synonyms: Yellow Mosaic
Japanese: きんいろモザイク
Information
Type: TV
Episodes: 12
Status: Currently Airing
Aired: Jul 6, 2013 to ?
Producers: Media Factory, Sentai FilmworksL, Studio Gokumi, Showgate
Genres: Comedy, School, Slice of Life
Duration: 24 min. per episode
Synosis:
Cerita Berawal dari Oomiya Shinobu, 15 tahun, gadis Jepang yang tampaknya lugu yang justru melakukan homestay di Inggris. Bahkan setelah kembali ke Jepang, ia masih merindukan waktunya di luar negeri. Suatu hari, Mendapat surat dari Alice, gadis di keluarga angkat Shinobu di Inggris. Surat itu berbunyi: Shinobu, aku akan datang ke Jepang! Komedi gadis campuran Jepang / Inggris 'mengikuti kehidupan Shinobu, Alice, dan gadis-gadis lain dari Jepang dan Inggris.