Makai Ouji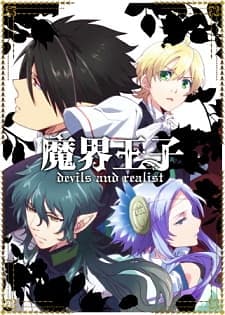 Status:
end
Genres:
Summer 2013
Description:
Alternative Titles
Japanese: 魔界王子 devils and realist
Information
Type: TV
Episodes: 12
Status: Currently Airing
Aired: Jul 8, 2013 to ?
Producers: Dogakobo
Genres: Comedy, Demons, Fantasy, Shoujo, Supernatural
Duration: 24 min. per episode
Sinopsis:
Cerita ini berkisah tentang William, keturunan keluarga aristokratis dengan kecerdasan yang langka, Suatu hari pamannya kehilangan harta benda dikarenakan kegagalan usaha. Khawatir nama keluarganya akan tercoreng, Willian pun pulang ke rumah dan memulai pencarian barang peninggalan keluarga agar bisa dijadikan uang. Pencariannya pun membuahkan hasil dan dia menemukan ruang bawah tanah yang ditinggalkan oleh nenek moyang. Di ruangan itu ada segel magis, dan Willian tak sengaja memanggil iblis. Iblis itu memberitahu William bahwa namanya adalah Dantalion dan menceritakan bahwa William adalah seorang pemilih yang dapat memilih penguasa dari dunia iblis.
Episode 01