Monogatari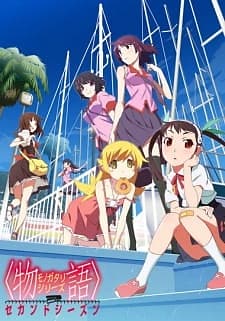 Status:
end
Genres:
Summer 2013
Description:
Alternative Titles
Synonyms: Nekomonogatari: Shiro, Kabukimonogatari, Hanamonogatari, Otorimonogatari, Onimonogatari, Koimonogatari
Japanese: 〈物語〉シリーズ セカンドシーズン
Information
Type: TV
Episodes: Unknown
Status: Currently Airing
Aired: Jul 7, 2013 to ?
Producers: Aniplex, Shaft, Aniplex of AmericaL
Genres: Comedy, Ecchi, Romance, Supernatural
Duration: 24 min. per episode
Rating: R – 17+ (violence & profanity)
Synopsis
Adaptation of the second season of the Monogatari Series.